Limousines represent elegance, wealth, and luxury. These lavished vehicles allow passengers to travel comfortably and in style while enjoying several amenities and entertainment systems. Limousines also offer excellent transportation for almost any occasion. Are you ready to tie the knot and celebrate your love for each other? If so, you probably want to make the day as unique and memorable as possible. Make sure you don't miss out on a limo for a wedding party! Keep reading to find out all the reasons why!!
Bring a Punch of Style
One of the biggest reasons to hire our wedding limo is that it adds a punch of style to your wedding ceremony & reception. Isn't it more important to feel stylish and pampered than arriving or leaving in our limousines at your wedding? Are you wondering why your wedding party needs our limo service? Your wedding journey is definitely one occasion that calls for display. Our limo for the wedding party keeps the spirit of the occasion going and turns your journey into something ultra-special.
Sets the Tone
Weddings are all about celebration, romance, and a touch of glamor. Hiring our luxurious limo for the wedding party will instantly set the day's tone for one celebration. It is one of the easiest ways to mark your wedding day as an extra special occasion. If you get a luxurious limo for a wedding party on your special day, you'll feel pampered as soon as you step inside. Driving in one of our wedding limos is ideal for setting a romantic tone and getting you in the mood to celebrate.
Great Photo Opportunities
We ALL want great wedding photos. It serves as keepsakes and makes the day alive for years to come. Apart from staged photographs, the nuptials wish to have some unique photo opportunities! A high-end limo for a wedding party provides the perfect backdrop for some of the more casual or playful wedding photos.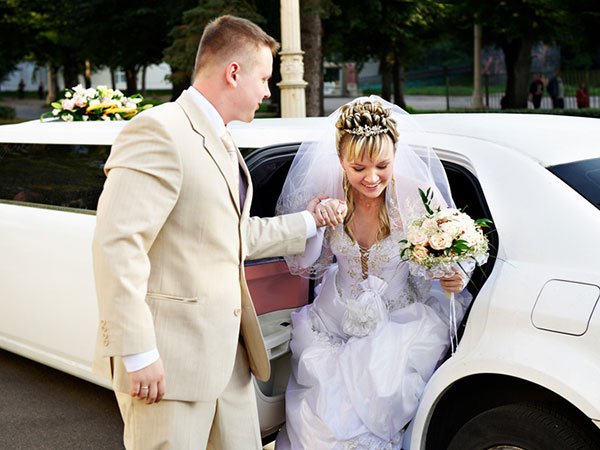 Comfortable journey
Besides setting the tone, adding a punch of style, and making for great photos, our wedding limo for the wedding party guarantees comfort while moving to your wedding or reception venue or hotel, or airport. Not only will you be able to relax surrounded by premium quality finishes, but you can sip on a chilled bottle of water or champagne and enjoy a relaxing, stress-free trip.
Less Stress
Wedding planning can be incredibly stressful. You deserve to sit back, enjoy the special occasion, and not worry about getting to the ceremony on time. Hiring our limo for the wedding party ensures you arrive at the wedding venue on time. Instead of worrying about the time and jumping through traffic on your big day, you can sit back and relax while our driver handles all the details.
 Always on time
We are one of the leading wedding limousine services in Charlotte, NC. We will always be punctual and have calculated adequate time for your journey. You won't have to worry about fueling up or other last-minute things that can add stress to an important day.
More space
Another benefit of hiring our limo for a wedding party is that there's room for more. Depending on the model you hire, you may be able to seat up to 10 passengers. It is ideal if you want to transport members of the wedding party from the ceremony to the reception venue. Traveling in one car together ramps the fun and keeps the wedding day spirit alive. Your guests will thank you for providing them with this added convenience.
Are you looking for a limo for a wedding party in Charlotte, NC? If so, look no further than G and G Limousine Service! We are geared up to cater seamlessly to your wedding day transportation needs. So contact us to make your dream wedding day a reality!